Marie Elizabeth Blinn, daughter of Peter (1858 Germany - 1929) and Bertha E. (Mielke) (1875 Russia - 1937) Blinn, was born 17 August 1906, Okemos, Ingham County, Michigan. Marie graduated from Okemos High School in 1925. Marie was raised on a farm in Meridian township where for many years the address was listed as 2643 Bennett Road. This may have been the original farm property Mr. Blinn purchased about 1900.
Mr. Blinn immigrated from Germany in 1884 and made his way to Michigan. In 1897 he married Bertha and the couple raised 3 children; William, Laura and Marie.
Marie married Jacob LeGrande Nichols, 20 August 1932, Lansing. Jacob had previously been married, in 1918, to Ruth Avalyn Williams. Ruth divorced Jacob on grounds of non-support in 1922, Kent County, Michigan, and went on to have two more marriages. Jacob, who became employed by Consumers Power Company in 1921, and Marie had one daughter, Josephine, and the family lived for many years at the Bennett Road address after the elder Mrs. Blinn died in 1927. Jacob retired from Consumers Power in 1946.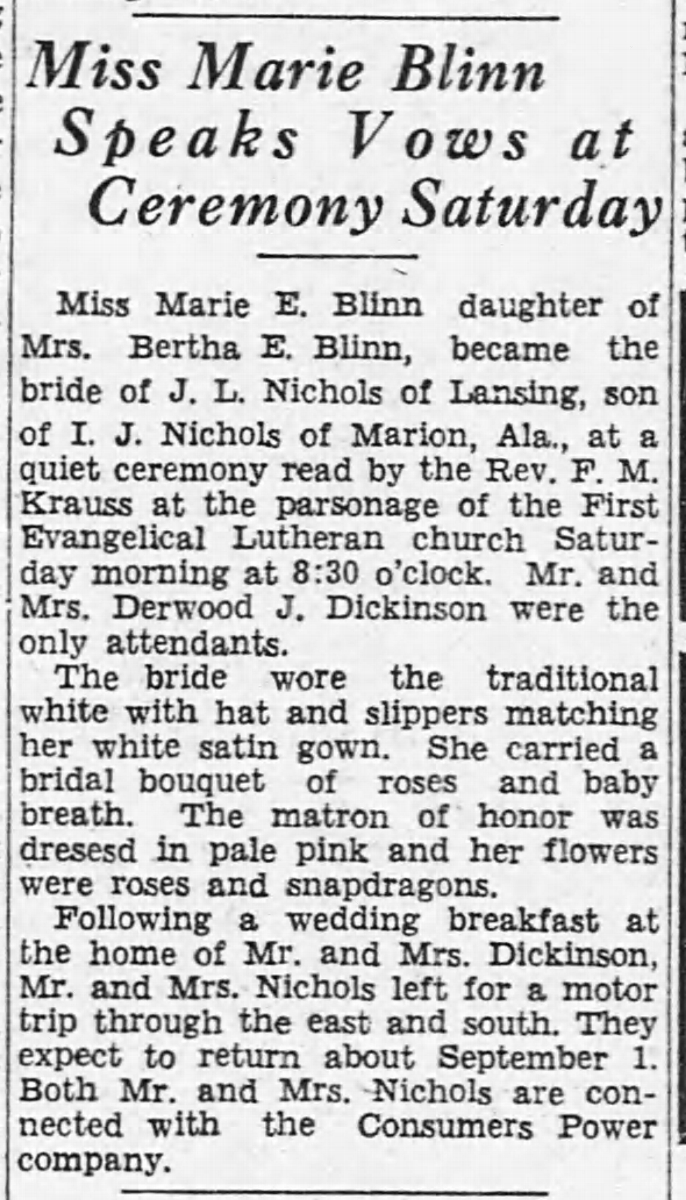 Jacob, born 6 June 1894, Alabama, died 16 April 1958, Lansing, Ingham County. Marie died 12 May 1994, East Lansing. They were interred Glendale Cemetery, Okemos.