Frederick David "Fred" Whitmyer, oldest child and son of Freeman Forney (1885-2955) and Bessie Belle (Layer) (1886-1964) Whitmyer, was born 1 August 1914, in Louisiana. According to the 1910 East Feliciana Parish, Louisiana US Federal Census, Freeman was employed as a diary man at the State of Louisiana Insane Asylum. By the 1918 World War I Draft Registration Freeman Whitmyer had his family back in Ingham County. He and Bessie, with little 4 boys, were enumerated in the 1920 Ingham County, Michigan US Federal Census.
Fred graduated in 1932 from Okemos High School and for the next few years he farmed with his father. A World War II Draft Registration card, dated 16 October 1940, described Fred as 5'10", 160 pounds with blue eyes, brown hair and a ruddy complexion. In March 1941 Fred joined the US Navy where he served throughout World War II, honorably discharged in 1947.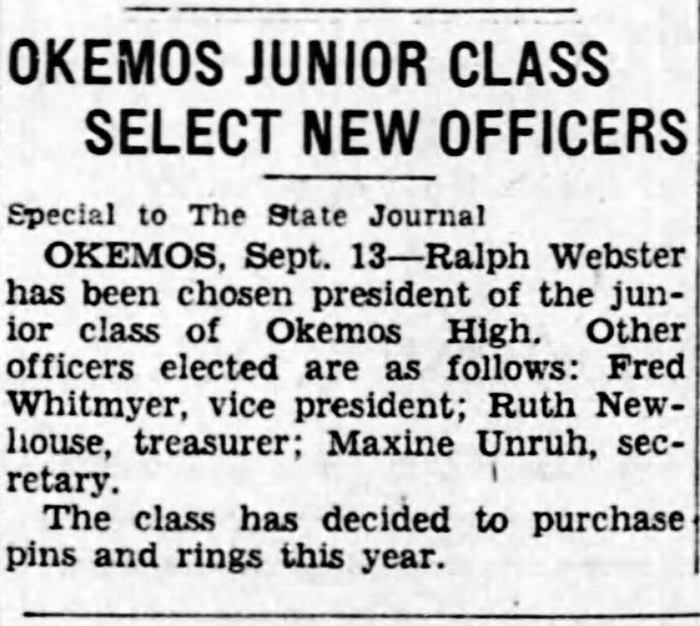 On 5 July 1946 Fred married widow Mary Frances (Smith) Elliott in Duval County, Florida. Mary's husband, F. M. Elliott, had died in 1945 leaving her with a 10 year old son Douglas (1935-2010).
Fred and Mary would celebrate 45 years together before Fred's death 11 May 1992, Cass County, Texas. Mary, born 23 October 1913, died 30 December 2003, Cass County, Fred and Mary were interred Pleasant hill Cemetery, Bryans Mill, Cass County.
Longview News-Journal (Longview, Texas) Tuesday 2 May 1992
FRED WHITMYER
Naples - Services for Fred Whitmyer, 77, of Naples will be 10:30 a.m. Wednesday at First Baptist Church in Omaha with the Rev. Andy Andrews officiating.
Burial will be in Pleasant Hill Cemetery in Bryan's Mill under the direction of Alexander Funeral Home of Naples.
He died Monday at his home.
Mr. Whitmyer was a Navy veteran of World War II and retired from El Paso Natural Gas in Farmington, N.M.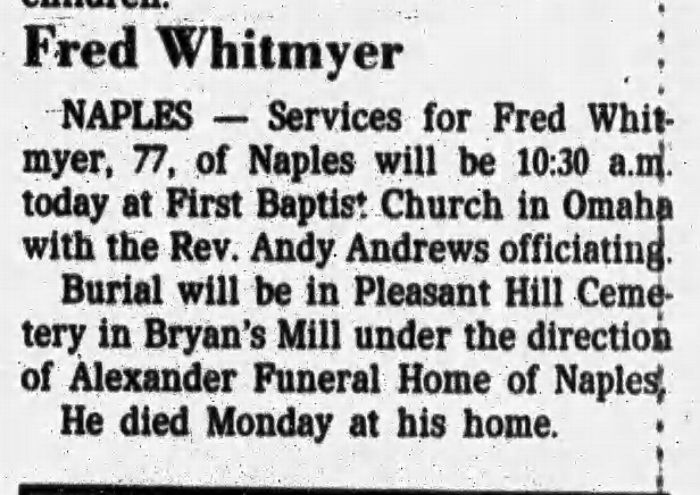 He was a member and deacon of Omaha First Baptist Church.
Survivors include wife, Mary; son, Douglas Elliott of California; brothers, Dick and John, both of Michigan; sister Esther of Michigan; two grandsons; a granddaughter; and six great-grandchildren.