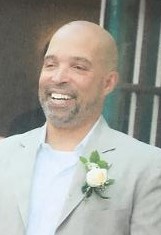 Mark Webster class of 1985
of Okemos, aged 53, passed away April 30, 2021. The family was served by Riley Funeral Home.
Published in Lansing State Journal from May 5 to May 9, 2021.
Thank you to Autumn Johnson Romig class of 1985 for providing this information.
---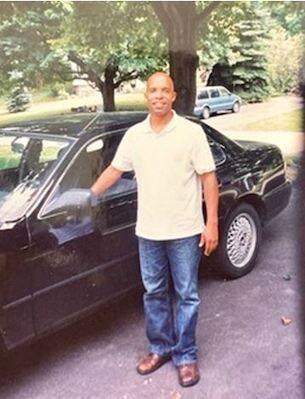 Retired Sergeant First Class Mark Lodge Webster passed unexpectedly at home Friday, April 30, 2021. Son to his father Joseph Lodge Webster, Jr., and his mothers Rhoda JaMille Jackson and Sarah Tilton Webster, Mark was born on July 6, 1967 in Detroit, Michigan. A loving father, compassionate friend, and dedicated mentor, Mark passed too-soon at the age of fifty-three after a twenty year career in the military. A verteran of the Iraq-Afghanistan War, he served his country with the 1171st Area Support Medical Company. He is preceded in death by Sarah Tilton Webster.

A 1985 graduate of Okemos High School and after earning an Associates degree from Lansing Community College, Mark joined the US Army in 1987 and completed his training as a radiographer. In 2006, his unit was called to support "Operation Iraqi/Freedom," in Baghdad, Iraq. During his year-long mission the 78 company members traversed approximately 15,000 miles and treated 24,000 patients. In 2007, Mark was assigned to the Chemical, Biological, Radiological, and Nuclear and High-Yield Explosives (CBRNE) Consequence Management Response Force (CCMRF) where he served for a number of years. He also gained certification as an optical lab technician and a promotion to the 146th Medical Battalion, the first Multifunctional Medical Battalion in any component of the US Army. Before retiring, Mark served as a Master Resilience Trainer and dedicated the latter half of his professional military career to helping active-duty soldiers and fellow veterans develop skills and strategies for coping with traumatic experiences, maintaining healthy relationships, and easing the transition to civilian life.

In recent years, Mark rededicated himself to his lifelong passion of music and produced a ten track album "Taxicab Lullabies", published on Bandcamp under the username "marcweb". Even while pursuing his own creative passion, Mark did his best to help and positively impact other people and to mentor fellow musicians across the Mid-Michigan area.

Mark will be lovingly remembered for his warm, vivacious spirit and compassionate soul. He will be deeply missed by all of those who shared in his light and felt the warmth of his spirit: his children Sarah, Emily, and Kahley; his parents Joseph and JaMille; his brothers Charles and David; and innumerable extended family and friends.
Published by Lansing State Journal from May 28 to May 31, 2021.
https://www.legacy.com/us/obituaries/lsj/name/mark-webster-obituary?id=12200744