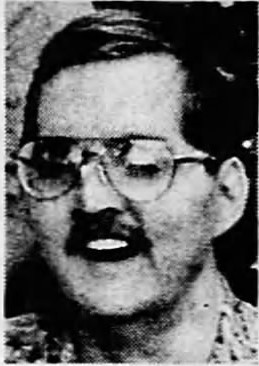 David A. Gloden class of 1973, age 53, was born May 1, 1955, in Lansing, Michigan and passed away September 10, 2008.
We like to remember David in the prime of his life, short though it was. He had unconventional ways of dealing with life that were most evident in the way he dressed, the music he listened to and the artwork he created.
A gifted and prodigious artist, he worked in a variety of mediums to create pieces that ranged from warm and soothing to jarring and provocative (his favorite end of the spectrum).
He loved the rock music of the day and had an encyclopedic knowledge to match. A severe critic, he preferred the likes of The Doors, Boz Scaggs, Pink Floyd, and others, but only as long as they remained true to the music.
He dressed in a fashion that mirrored his artwork. Colorful, unconventional, made up of pieces at hand and yes, sometimes provocative.
He was bright, very well read, and conversant on many topics. He was not shy in issuing up opinions (frequently scathing) on people, issues and institutions he felt strongly about.
His time in the sun was cut short by health issues. He wandered around the country in search of work, peace of mind and the life of a working artist he so desired.
He was well cared for and enjoyed weekly visits from Mom and members of the family nearby. They saw to it that he never missed a family get together, including a birthday bash family reunion just 3 weeks before he died.
David will be missed and lovingly remembered by his family: Mother, Phyllis Gloden; Father, Thomas Gloden; sister, Julie Gloden; brothers, Tom (Teresa) and Michael (Karyn); special Aunt and Uncle, John and Carrie Wales; nephews, Brandon, Ryan and Tyler Navin, Kiel, Brett and Michael Gloden, who held David as a very special and treasured Uncle; and great-nieces and nephews. The family gives heartfelt thanks to the staff at Ingham Medical Extended Care Facility for the exemplary care of David during his long stay there.
A memorial service will be held Saturday, September 20, 2008, at 11:30 a.m. At Edgewood United Church of Christ, 469 N. Hagadorn Road, East Lansing, MI.
In lieu of flowers memorial contributions may be made to Habitat for Humanity of Lansing or the Multiple Sclerosis Foundation.
Printed Lansing State Journal 12 September, 2008. Our thanks to Steve Ostrander class of 1973 for notification.