Judith McMillan Tackett class of 1974, Born 1956 February 02, died 2003 September 03.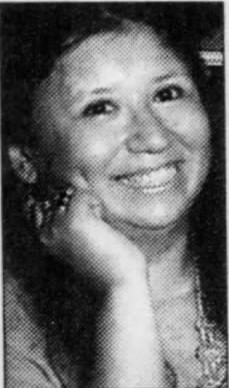 Mount Pleasant, Ml: Loving Mother, age 47, walked on, Wednesday, September 3, 2003. Born February 23, 1956 in Lansing, MI.
Preceded in death by her husband, Roger Lee Tackett Sr., daughter, Alicia Esther Tackett, parents, Archie and Esther McMillan, brothers, Jerry and Bruce McMillan.
Survived by sons, Jessie Ray and Roger Lee Tackett, Jr.; daughter, Sue Ellen Tackett; 2 brothers, Archie (Marie) McMillan, Donald McMillan; 7 sisters, Arvilla (Mike) Bateman, Joan (Brent) Brown, Janice (Richard) Beckhorn, Marie (Richard) Simmons, Joyce (Mark) Rueckert, Carol (Rick) Hubble, Sue Vertz; mother and father-in-law, Laura and Fred Tackett; along with many nieces, nephews, and other extended family members.
A Memorial Service will be held 11 AM, Saturday, September 6, 2003 at Chapel In The Pines Funeral Home.
Published Lansing State Journal 05 Sep 2003.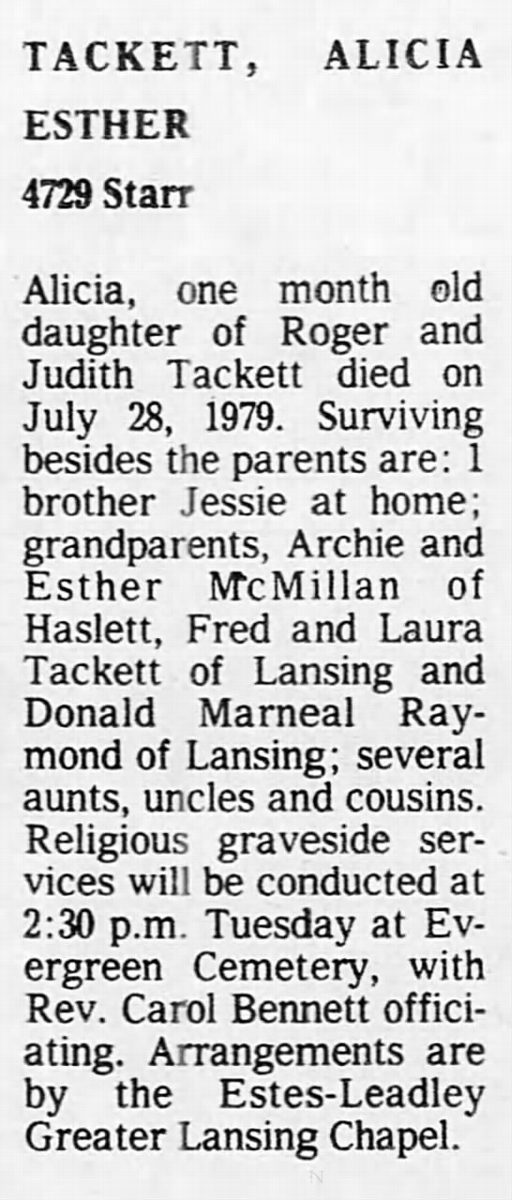 TACKETT, ALICIA ESTHER, one month old daughter of Roger and Judith (McMillan) Tackett died on July 28, 1979. Surviving besides the parents are: 1 brother Jessie at home; grandparents, Archie and Esther McMillan of Haslett, Fred and Laura Tackett of Lansing and Donald Marneal Raymond of Lansing; several aunts, uncles and cousins. Religious graveside services will be conducted at 2:30 p.m. Tuesday at Evergreen Cemetery, with Rev. Carol Bennett officiating. Arrangements are by the Estes-Leadley Greater Lansing Chapel.
Published Lansing State Journal 29 Jul 1979.
August 1982: Roger Tackett was a "working; fool" who loved his job at Fisher Body. His eagerness to work overtime and weekends may have killed him.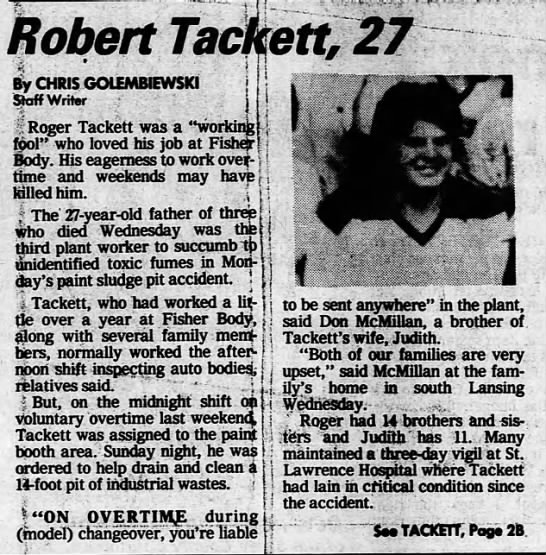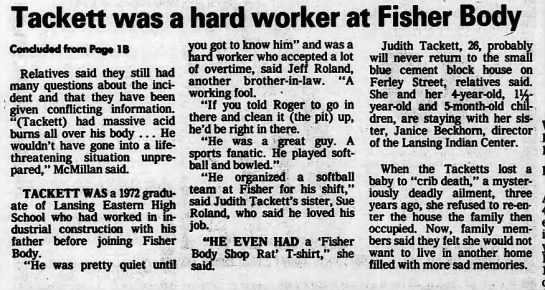 The 27-vear-old father of three who died Wednesday was the third plant worker to succumb to unidentified toxic fumes in Monday's paint sludge pit accident.
Tackett, who had worked a little over a year at Fisher Body, along with several family members, normally worked the afternoon shift inspecting auto bodies, relatives said.
But, on the midnight shift on voluntary overtime last weekend Tackett was assigned to the paint booth area. Sunday night he was ordered to help drain and clean 4 11-foot pit of industrial wastes.
"On overtime during (model) changeover, you're liable to be sent anywhere" in the plant said Don McMillan, a brother of. Tackett's wife, Judith.
"Both of our families are very upset," said McMillan at the family's home in south Lansing Wednesday.
Roger had 14 brothers and sisters and Judith has 11. Many maintained a three-day vigil at St. Lawrence Hospital where Tackett had lain in critical condition since the accident.
Relatives said they still had many questions about the incident and that they have been given conflicting information. "(Tackett) had massive acid burns all over his body ... He wouldn't have gone into a life-threatening situation unprepared," McMillan said.
Tackett was a 1972 graduate of Lansing Eastern High School who had worked in industrial construction with his father before joining Fisher Body.
"He was pretty quiet until you got to know him and was a hardworker who accepted a lot of overtime", said Jeff Roland, another brother-in-law. "A working fool.
"If you told Roger to go in there and clean it (the pit) up, he'd be right in there."
"He was a great guy. A sports fanatic. He played soft-ball and bowled."
"He organized a softball team at Fisher for his shift," said Judith Tackett's sister, Sue (McMillan) Roland, who said he loved his job.
"He even had a 'Fisher Body Shop Rat' T-shirt," she said.
Judith Tackett, 26, probably will never return to the small blue cement block house on Ferley Street, relatives said. She and her 4-year-old, 1-year-old and 5-month-old children, are staying with her sister, Janice (McMillan) Beckhorn, director of the Lansing Indian Center.
When the Tacketts tost a baby to "crib death," a mysteriously deadly ailment, three years ago, she refused to re-enter the house the family then occupied. Now, family members said they felt she would not want to live in another home filled with more sad memories.
Published in Lansing State Journal 05 Aug 1982. Coincidentally, Richard Claeys 35, older brother to Jack Claeys class of 1968 died in the same incident.