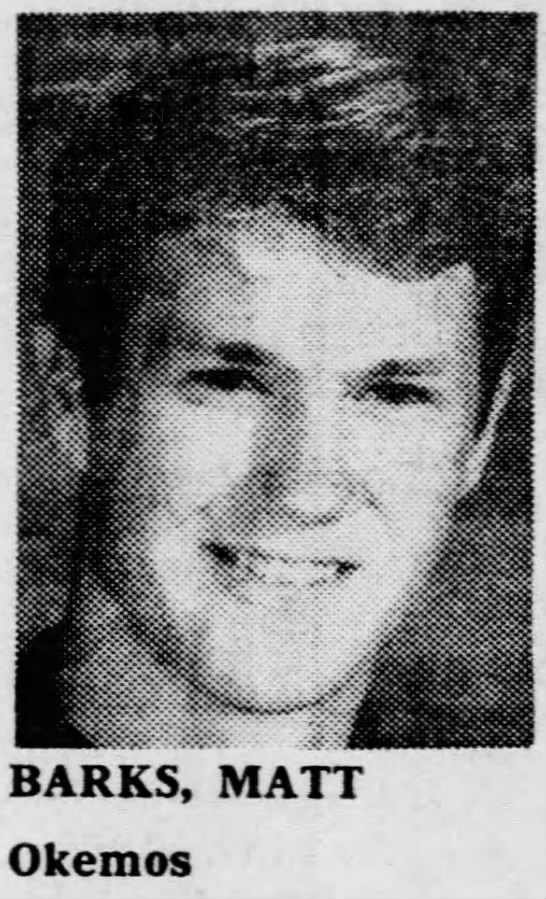 Matthew Barks class of 1994
BARKS, MATT Okemos Age 17, died January 23, 1993. Matt was born December 28, 1975 in Fort Worth, TX.
He currently was a 4.0 honor student as a Junior at Okemos High School where he played in the jazz band, band and orchestra. He was very interested in the Spanish language and had hoped to incorporate it in his major in college. He was an active member of The Presbyterian Church of Okemos.
Matt and his family are so thankful for the warmth and acceptance they have received from the community since moving here from Texas 1 1/2 years ago.
Surviving are his parents, Joel and Barbara, and brother, Dan of Okemos; paternal grandparents, Guy and Mary Barks; maternal grandparents, Kenneth and Juanita Mac-Pherson; great grandparents, Mary and Austin Flatt; great aunt, Helen Thompson; and several aunts, uncles and cousins, all of Texas.
Memorial services will be held 3 p.m. Tuesday, January 26, 1993 in The Presbyterian Church of Okemos, 2258 Bennett Road, Okemos with the Rev. Mark B. Ramsey, Pastor, and the Rev. Janice C. West, Associate Pastor, officiating. A private graveside service will be held.
Friends may call at the Gorsline-Runciman Co., East Chapel, East Lansing beginning Monday, 7 p.m. where the family will receive friends from 7-9 p.m. Those desiring may make contributions to Okemos Education Foundation in care of Okemos High School in Matt's name.
Honor student killed when train hits car
By TONY SCOTTA Lansing State Journal January 24, 1993
A 17-year-old Okemos High School junior headed to Michigan State University to take part in a science program was killed Saturday when his car collided with a train, Meridian Township police officials said.
Matthew Barks died Saturday morning after he failed to stop his car at a train intersection at Hagadorn Road and the C&O railroad tracks near Mount Hope Avenue, said Meridian Township Police Sgt. William Shelton.
Barks, who moved to the Okemos area from Texas with family 1 y2 years ago, held a 4.0 grade point average at the school.
He was also a member of the school's Spanish Club, jazz band and orchestra, and served as a junior class representative on the student council.
"He was taking AP courses and applying to Ivy League colleges," said his father, Joel Barks of Okemos. "He was thinking of going into international studies or political sciences, but as much as anything thought about teaching in a Spanish-speaking country."
Matthew had been taking part in the LEAP program, a science enrichment program for high school students held at Michigan State University, Barks said.
Police said the teen had been driving north around 9 a.m. on Hagadorn Road when he apparently failed to notice the coming train. Witnesses at the scene said Barks car was one of three cars that ignored a flashing railroad signal, leaving police to wonder if perhaps Barks didn't notice the warning lights.
No other injuries were reported in the accident and the train did not derail, police said.
Okemos High School officials said they planned to hold counseling sessions to help students cope with the death.
Barks also is survived by his mother, Barbara and a brother, Dan. Service arrangements are pending through the Gorsline-Runciman Funeral Home, East Chapel.

January 28, 1993 LSJ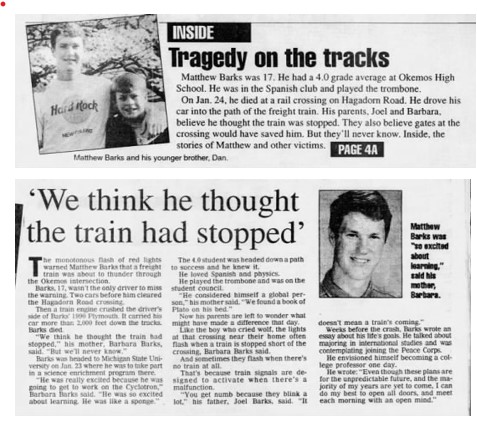 September20, 1993 LSJ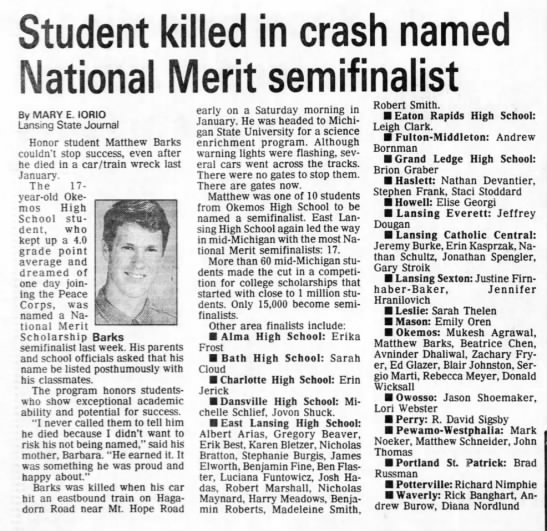 October 13, 1993 LSJ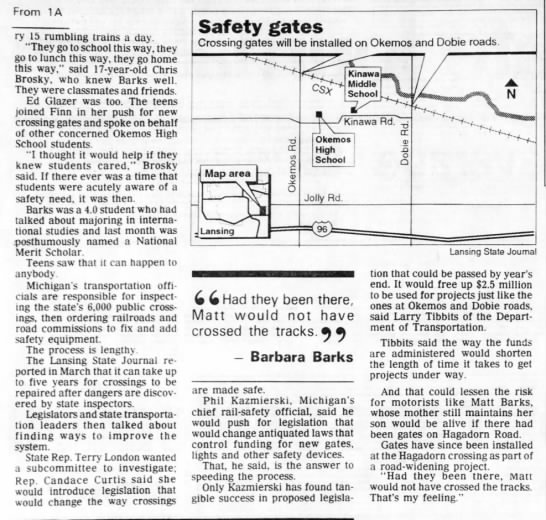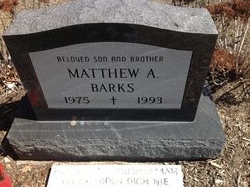 Matthew A Barks
Birth: 1975
Death: 1993 (aged 17-18)
Burial: Leek Cemetery
Okemos, Ingham County, Michigan, USA
Plot: East Side
Memorial ID 37105299 View Source
"Beloved son & brother, for our friend, Matt. We will never forget you"