David Shea Provenzano class of 1996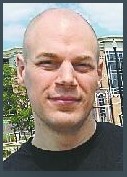 David Shea Provenzano, 38, passed peacefully at his home in Jenison, Michigan on February 1, 2016. He was the son of David J. (Joanne) Provenzano, deceased and Jenine Grainer Iverson; husband to his wife of 5 months, Kelly Card Provenzano; and beloved brother of Emery Max.
Shea's was a life of engagement, goal setting, and accomplishment. As a child he was an avid hockey player. During his days at Okemos High School and Hope College he excelled in football and track. He was known as a tough and gracious team player. As a senior computer program developer, he was revered by his coworkers and those he mentored over the years.
His life was defined by challenges met and plans fulfilled. Shea endured with grace, strength, and indomitable will a three-year siege against the ravages of cancer. He fought a warrior's battle and as he documented his fight, he created an international network of supporters who drew strength and inspiration from his posts, his candid sharing of his journey, his will to live, his life force, and his compassion. He said three years ago: "they say I'm going to die... I'm going to fight, and I'm going to try to show how to do it right." He did it right. His final rest, so well deserved, leaves not a void, but an opening.
He created a field of love and a legacy of inspiration for all he touched during his journey, and left this earth a completed man with a fulfilled mission. In the course of his life, Shea grew into a man admired and emulated, someone of noble character, rectitude, dignity, and a sense of what is right. This was Shea - a man in full, and truly, a hero. He will always be carried in the hearts of so many forever. We are grateful to Shea, for all he brought to his entire family and the hundreds that have been honored to be followers of his journey. The inspiration he continues to give to so many others is a profound gift...
Shea was a wonderful son, brother, cousin, grandson, and friend, deeply loved. He is also survived by aunts and uncles: Meriam (Deb) Grainer-Cox, Gar, deceased, (Kathy) Grainer. Frank (Janalee), Jac (Jim, deceased) Gibson, and Vernon (Peggy) Grainer, eight cousins, his beloved grandmother "Eddie" Grainer, siblings Heather and Jeff Provenzano, friends Zack Weiler and Jason Piper, godmother Alanah Keesee, and his childhood stepdad Laurence Max.
The family requests that in lieu of flowers, donations may be made to Okemos Public Schools in Shea's name. Details will be provided at the memorial service which will be held in Friday February 26, 2016 at 12:30 in the chapel at Unitarian Universalist Church, 855 Grove Street, East Lansing 48823.
Published by Lansing State Journal from Feb. 25 to Feb. 26, 2016.
Thank you to Kier Pon for the notification.
https://www.legacy.com/us/obituaries/lsj/name/david-provenzano-obituary?id=16827578