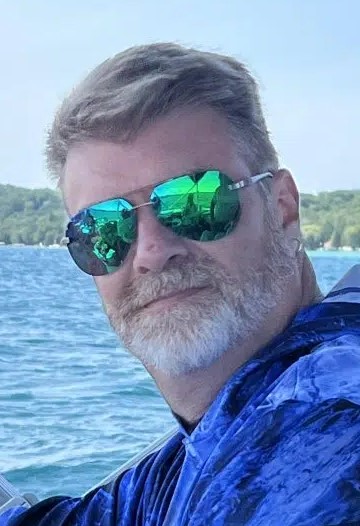 John C. Ross class of 1987, -
John Carlyle Ross, 53, passed away on Thursday August 11,2022 unexpectedly at his home in Gowen, Michigan. His wife of 25 years, Elizabeth Wardell Ross class of 1987, and his son Dylan were with him at the time of his passing.
John was born on January 22, 1969, in Walnut Creek, California to parents Richard L. Ross and Julie A . Ross who currently reside in Venice, Florida. He has two children, Katelin Ross, 21, and Dylan Ross, 16, plus a brother Richard Ross Jr. (Janet), Kernersville, NC and a sister, Kathryn Ross-Cruz (Felix), White Lake, MI.
John was always very outgoing and the center of attention with his many friends. His positive attitude, good looks and caring personality made him loved by many. He was industrious; always working on a project. As a child he would ask, "Can I help you?". And he did.
He loved mechanical things and became skillful fixing almost anything. This led him to enroll in a Co-op program offered by General Motors. It involved classes at Owens Technical College in Toledo, Ohio each semester followed by working in a GM dealership collision shop during the next semester. After two years, he had earned his college degree plus was certified in over 26 ASE and ICAR areas of repair. He continued his studies after graduating from Owens and attained a Platinum ICAR status … a level of achievement held by less than 5% of collision repair technicians.
John's dream was to have his own business and in 2012 he formed West Michigan Collision & Mechanical in Rockford, MI. He built a state-of-the-art facility and held his Grand Opening in January 2013, almost 10 years ago. His wife, Elizabeth, became the office manager and his son, Dylan, recently started working there to learn the business. John was a perfectionist at his craft and said that his reputation was on every vehicle that left the shop. He wanted to go that extra mile to please and built a business reputation of quality and honesty. The business grew and became successful.
He was devoted to his wife and children and friends. Family meant everything to John. He was a great father to Katelin and Dylan and shared his knowledge of hunting and fishing with them. He was so proud of them. Elizabeth is the love of his life. Together, they raised a beautiful family and a successful business. They shared their love with many friends and celebrated get-togethers with close friends regularly.
John was an avid outdoorsman. He loved to hunt, fish, snow mobile, and party with friends. He was an awesome hunter and fisherman and loved to hunt and fish with his son Dylan. Although John was a man's man, he also had a soft side that showed love and caring. He had a special place in his heart for his daughter, Katelin. He was so proud of her.
He had great people instincts and could sense when someone was in need. He generously reached out to offer caring and assistance. He was loved and respected by so many. John wanted to participate in the Gift of Life by donating his organs to help others.
His ashes will be shared with nature. A Celebration of Life has been scheduled for Friday, August 19, 2022 from 4:00 – 8:00 PM at the Community Cabin in Rockford, MI. It is located at 220 North Monroe Street. Family and friends are invited to attend to celebrate John's life. Rest in Peace, dear John.
To send a message of sympathy to the family, sign John's online guest book, or to share a favorite memory, please visit:
www.MichiganCremation.com