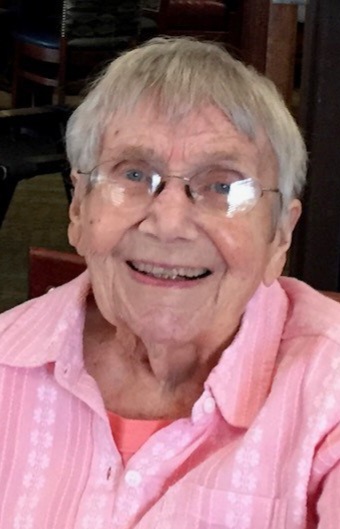 Elaine van Aken Cowen
September 18, 1920 – February 12, 2023
Elaine Van Aken Cowen was born on September 18th, 1920 in Eaton Rapids, Michigan and passed away peacefully at her home in Okemos, Michigan on February 12, 2023 at 102 years of age. She was the oldest of 7 children and grew up on a farm in Eaton Rapids, going barefoot in the summers, helping to raise her younger siblings and excelling in school. Elaine went to Michigan State University, then called Michigan Agricultural College, when she was 16 years old.
She received her Bachelor's Degree, then with a full ride scholarship to University of Michigan for her Master's Degree in Mathematics. During WWII she taught statistics for the military at Denison College in Ohio, meeting the love of her life and future husband Jerry Cowen. After her marriage, she worked in the computing lab at MIT and taught at Wellesley College while Jerry attended Harvard, returning to Michigan where she taught statistics at Michigan State University, while Jerry taught in the Physics Department which now has two Endowed Chairs in his name that were sponsored by their son Randy.
Living in Okemos, close to her farm roots, she and Jerry raised five children. Elaine combined a very active family life and full time teaching with admirable grace and resourcefulness. All the kids learned to pitch in with cooking and chores. In 1972 she began teaching Mathematics at Okemos High School for over 24 years until retiring at the age of 76, returning thereafter at times to teach even in her eighties. She was active in the community, serving on the Okemos School Board, engaged in broadening education for all children. Though deeply rooted in Okemos, Elaine traveled widely with her family, spending many sabbatical years in California, the Netherlands and France. Somehow, she managed to make it seem easy to wrangle five kids and luggage in a compact car throughout the by-ways of Europe and to live fully immersed in other cultures in ways that enriched her family throughout their lives. Jerry and Elaine loved to travel the world together and made trips to Japan, India, Africa, Alaska and most of the countries of Europe. They had a vacation cabin on Higgins Lake and spent many beautiful and memorable family summers there.
After retirement, Elaine was the treasurer for the Meridian Historical Village in Okemos for more than 20 years until age 98. She re-enacted history as a docent in the village for countless school children, assisted with many events and helped the Village restore and build several new buildings. She was constantly baking, cooking, canning, tending to her garden and feeding many family and friends. She encompassed the resource- fulness of a farm-girl, the Insightfulness of a mathematician and the spirit of a world traveler, while always caring for those around her. She was a wise, kind, generous and honorable human being and inspired her children, grand-children, friends and the many generations of students she taught. She will be dearly missed and widely cherished by all who knew her.
She is survived by her sisters Alice Bonta and Ruth Ann Abbott, her five children Cheryl Cowen of Okemos, MI; Randy Cowen and Phyllis Green of NYC, NY; Thom Cowen and Meredith Stricker of Carmel, CA; Neil and Robin Cowen of Carlsbad, CA; and Eleanor Cowen and Peter MacIntyre of Okemos MI. as well as nine beloved grandchildren: Candace Cowen ( Mike) , Ariel Jarman ( Alexander) Leah Cowen, Sarah Schulsinger (Sam), Matthew Cowen-Green, Deirdra Cowen, and step grandchildren Kyra Butts ( Michael) , Joel MacIntyre, and Jonathon MacIntyre and treasured great-grandchildren: Katherine, Anderson, Aster, Braden, and Madison and step great grand children Lauren, Sabrina, Cymphony, Olivia and Londyn. Also many close nieces and nephews.
No services will be held. Donations can be made to her beloved Meridian Historical Village through the Friends of Historic Meridian in her name.
https://www.dignitymemorial.com/obituaries/east-lansing-mi/elaine-cowen-11150469