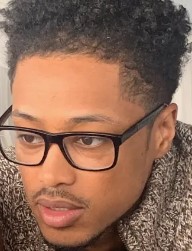 Denzel Ryan Smith Hodge, "Denny", class of 2012, passed away Thursday, July 27, 2023, in Lansing, Michigan. Age 29 years. He was born Thursday, March 31, 1994, Denzel (Denny) Ryan Smith Hodge came bounding into this world with a big body and an even bigger spirit. Even as a baby, he had the sweetest personality that was open and accepting of everyone. He had a vibe that was always so cool and just chilled. He had a genuine charm and a great big million-dollar smile that was contagious and could light up any room.
If there was one word to describe Denny, it would be love; A love so pure and genuine that you cannot explain, describe, or replicate. He showed that indescribable love to his family every day with his infectious smile and generous hugs. He was one of those people whose hugs left an impression on you, kind of like a tangible smile. His baby brother, Joseph, described Denny as his hero.
Denny had a genuine compassion for all things, especially animals. Denny loved our dog Chloe so much and when he lived at home, Denny was always her favorite. If he wasn't cuddling his little brother Joe, he would have Chloe in his arms.
Denny had so many nicknames; Big D. (self-proclaimed as a child), Denny Dukes, and Debo. Affectionately, Denny's football coach, the Senior Palmer, called him "Dimples."
As a kid, Denny played and excelled at every sport that he played. He especially enjoyed basketball, hockey, football and track. He always had a ball in one hand, and his other hand was constantly in his mouth. Fun fact, he often slept with his basketball. In high school, he played Varsity Basketball. He was the star point guard and would be smiling the whole time he was dominating players, not out of spite, but out of a genuine love of the experience. Denny also ran Varsity Track and was so good he received a track scholarship to Vincennes University, even there, he would be smiling while competing.
Denny graduated from Okemos High School in 2012. He ran track for a semester at Vincennes University and then transferred to Olivet College where he played basketball. After Olivet, Denny completed an Aviation Certification from Lansing Community College and became an Aviation Mechanic at Duncan Aviation. Denny was so excited and proud of learning how to work on planes, and he would light up with a smile when describing the work that he did.
Our Denny loved food. Foods of all kinds, but especially breakfast. When Denny described his food, you could almost taste it yourself! Denny also loved going to big parties and visiting cities with lots of lights, which he referred to as "the party" on one childhood vacation with his family. He also loved to fish. He would always have his fishing poles with him and stop to see what he could catch.
Denny had such a big love for his family. In a group text after Andrea's wedding, he said, "Wish we got to see each other more. Happy you all made it home, tell Chloe I said, 'want to go outside'." Above all, Denny was loved tremendously in return.
More than anything, however, he loved his daughter, Ellie, and the love of his life, Katelynn. He recently had a conversation with a friend where he talked about how much he loved them both and that in his perfect world, they would have a big house, a yard, and they would all be together as a family. The day that Ellie was born, his entire world changed. Ellie was his pride and joy.
Ellie's face lights up when she talks about her Daddy. She was telling a story about how after her baths, Denny would wrap her up in her towel like a burrito. She would say "maybe put ketchup and mustard on." Then Denny would pretend to put ketchup and mustard on her and pretend to take a bite. And that "bite" would make her laugh and laugh. Ellie also said that she is going to keep washing her face like her Daddy always washed it.
Left to cherish his memory are his daughter, Elenora Hodge and her mother, Katelynn Clark; parents, Leathia Hardy-Williams, Preston Smith, and Dr. Timothy Hodge; grandparents, Bertha Smith, Homer Walker and Kathleen Hodge; siblings, Candice Smith, Lloyd Benson (Kristin) Arnold II, Lelond (Christiane) Arnold, Andrea Hodge (Robert Martinez), Bradford (Ashley) Hodge, Joseph Hodge (Moriya DeJesus), and Tyre Alexander; nephews, Hastings and Harry; a slew of Pom Pon Sisters, special aunties, Edwina (Jim) Keyser, Elaine Hardy, and Avis Hardy; uncles, Edward (Kessia) Hardy and Kyle Hardy; many other aunts, uncles, cousins, and friends that turned into family.
Published by Paradise Funeral Chapel.
Funeral service will be on Thursday, August 3rd. At the Tabernacle of David. It is located at 2645 W Holmes Rd, Lansing, MI 48911. The service begins at 11am. Family hour starts at 10 a.m. Immediately following the service, the interment will be at Glendale Cemetery. The address is 2500 Mt Hope Rd, Okemos, MI 48864.
https://www.paradisefuneralchapel.com/obituaries/Denzel-Hodge-Lansing?obId=28572827&fbclid=IwAR2twCPwip8Zxn63kuM40DOI5vTKriUrxPpJe27eR71Mp-F4LdXNFQvh4