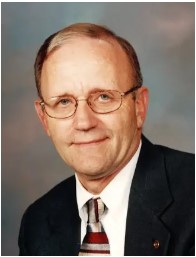 Lee Kirk Gerard, former Superintendent of Okemos Public Schools, of Okemos, Michigan, died on October 4, 2023, at the age of 81. His battle with Parkinson's Disease in recent years showed his courage in facing life's challenges with a smile. He was born in Clare, Michigan, on February 6,1942, to Frederick and Virginia Gerard of Muskegon, Michigan.
Lee was devoted to his family. He will be missed by his wife of 51 years, Linda; their three daughters; Kerry Muldoon (Mark) of Belfast, Northern Ireland, Kristy Sandel (Luke) of Okemos, Michigan, and Katie Gerard (Dave Milewski) of Northville, Michigan, his brother Tod Gerard (Kathy), and numerous other family members and friends.
Lee had a deep love for children and dedicated his working life to their education. He especially loved his five grandchildren, Carter, Liam, and Cameron Sandel and Lorna and Jameson Milewski. His commitment to improving the lives of children was unending - he spent many summers working with Castle Park's children's program and he helped start Winter Walden Ski Club for Okemos Community Education.
Lee earned degrees from Hope College, Western Michigan University, and Michigan State University. He worked as a teacher and administrator in several Michigan school districts and ended his 42 year career as Superintendent of Okemos Public Schools. He was a long-time member of the Haslett-Okemos Rotary Club and Faith Lutheran Church.
Lee never met a cookie or piece of pie he didn't like - usually piece by piece while he pretended he wouldn't eat it all! He was well loved in the community for his service to others, his kindness, and his sense of humor. He was so even-tempered that his girls often mention the most angry he got was when he would say, "For Peet's sake, girls!" He went out of his way to help others and was the best listener and advice-giver.
We will be honoring Lee in a celebration of life open house on Sunday, October 22, from 1-4 pm at Spags Bar & Grill in Williamston.
In lieu of flowers, please consider a donation in Lee's name to the Greater Lansing Food Bank's Weekend Survival Kit program that provides food for children during non-school hours, specifically over the weekend and longer breaks: https://greaterlansingfoodbank.org/
Thank you to Laura Lewis for notification.
https://www.skinnerfuneralhome.com/obituaries/Lee-Kirk-Gerard?obId=29392282