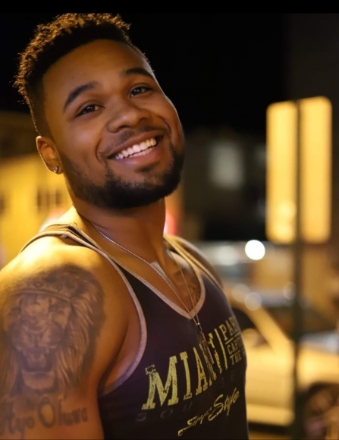 Brandon Christopher Billingslea class of 2015, 26, of Mason, Michigan went to be with the Lord May 20, 2023. He was born December 11, 1996 to Tameka and Christopher Billingslea.
Brandon graduated from Okemos High School where he was a member of the honors society, played football, and ran track. Brandon was always extremely motivated and went on to graduate with honors from Lansing Community College and summa cum laude from Northwood University.
Throughout his many accomplishments Brandon always remained humble. Following his graduation Brandon began working for the State of Michigan as an auditor for the childcare division. Brandon was a huge sports fan; he could strike up a conversation about any sport with anyone. He enjoyed going to the gym and working out regularly. Brandon loved to travel and would often attend festivals with his friends. Anyone that knew Brandon would tell you how he was very supportive and always kept an open mind, and a listening ear. He was a proud cat dad to his two fur babies, Brayden and Braxton, who he played with as often as he could. Brandon was a very spiritual young man who lived with a great faith in God. Brandon's kind and goofy nature made him easy to love. Friends and family meant the world to Brandon, he always made time for them, every week he made sure to have dinner with his grandma "Connie".
Brandon joins his paternal Grandparents, Terrance & Shirley Billingslea; Cousin, Jason Jr., Dakota & Little Jason Gentry. He is survived by his Parents; Siblings, Kyle and Bryce Billingslea; God Sister Deja Jack; God Brothers James Smith, Dominic Lee; Grandmother, Arena "Connie" Smith; Best friends, Kimba Maduka, Ahmad Elbast; Mentor and Motivator Tommy Benson; and a host of Aunts, Uncles, Cousins, and Friends.
The family would love for you to join in a Celebration of Life memorial on Saturday, June 3rd at High Caliber, 1982 W Grand River Ave, Suite 800 Okemos, MI 48864 from 8pm-12am. Words of prayer and Celebration to begin promptly at 8:15pm. Dress attire is your favorite sports team gear. In lieu of flowers, if you are so inclined to sow a seed on Brandon's behalf, being such a Man of God with BIG faith, the family would love for you to support either the ministry that has created "The Chosen"(Brandon's favorite visual about God) or any other ministry that you would like in honor of Brandon. If you insist on sowing seed into the Billingslea family, all funds will be used to support the Celebration of Life memorial. We have set up a Zelle account in Brandon's name. The email ;account associated with the account is crb_@msn.com. Arrangements entrusted to Vickers Leslie Funeral Home, 109 N. Church St./P.O. Box 503 Leslie, Michigan 49251. 517-878-6600
https://www.vickersfuneralhomes.com/obituaries/Brandon-Christopher-Billingslea?obId=28014479