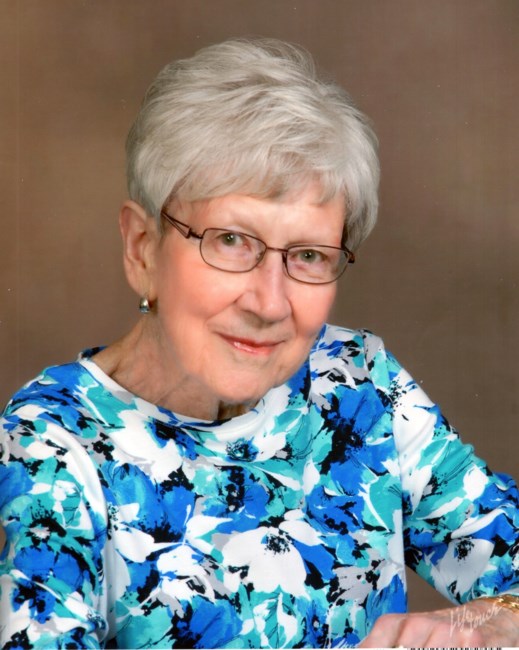 Shirley Joyce Chambers Randolph (OHS Food Service), age 85, from Okemos, Michigan went to her Heavenly Home on April 5, 2022. Shirley was born in Centralia, Illinois on July 10, 1936, the youngest of three daughters born to John J.W. Chambers and Cleo Vivian (White) Chambers.
Shirley spent her summers working on the East Coast and in Berea, Kentucky in order to pay for her college education at Southern Illinois University where she earned a bachelor's degree in teaching Home Economics. While attending SIU, Shirley met Carleton (Jack) Randolph, who was attending college on a GI bill after having served in the Navy as a radar operator. One thing led to another and on May 20, 1959 they were married in Centralia, Illinois.
Jack's job with Marathon Oil Company took them across multiple states in the Midwest while they raised three children, eventually locating (for the last time) in Okemos, Michigan. Shirley worked as a homemaker for many years before eventually accepting a position at Okemos High School in the cafeteria. When their three children graduated high school, Shirley went to work at Meridian Township where she loved assisting and coordinating the many local ballot races.
Jack and Shirley also loved traveling in their retirement years. Their travels included trips to: Alaska, China, England, Germany, and Amsterdam. Their children will always be grateful for the time Jack and Shirley took all of their children and grandchildren to Disney World for a week of enjoying the Happiest Place On Earth. Jack and Shirley enthusiastically supported and followed their children and, later, their grandchildren, in whatever sport or hobby they chose. And Shirley could always be counted on to be the best dressed at any of those events.
Shirley loved cheering for the Michigan State football and basketball teams in good years and bad. She enjoyed gardening, playing bridge with her friends, and attending Hello Club events. She served joyfully in the choir at Okemos Community Church until needing to move to assisted living in East Lansing. She had a huge heart for most animals, except, of course, the deer and squirrels who stole the bird seed from her birdfeeders. And she unequivocally knew that the best dog in the world was a Boxer, and, in particular, "her" Boxers, Ginger and, later, Bourbon.
Shirley is survived by her children: Cheryl (Randolph) Bauer (husband, Ray Bauer), Carleton (Scott) Randolph, and Pam (Randolph) Larson (husband, Ed Larson) and her grandchildren, Matt Bauer (Fairplay, Colorado), Robyn Bauer (Grand Rapids, Michigan), Haley Larson (Alexandria, Virginia), Jake Larson (Glendale, Arizona), and Zack Larson (Okemos, Michigan), as well as her nieces, Wynn Heggli (husband, Greg) and Sue Ann Fields (husband, Randy).
She was preceded in death by her husband (Jack Randolph), father (John J W Chambers), mother (Cleo White Chambers), two sisters and their husbands (Vivian/John Connaway and Rhea Mae/Louis Chandler), niece (Carol Cuevas), and nephews John (Butch) Chandler, and David Chandler.
A memorial service celebrating the life of Shirley Randolph will be held at Okemos Community Church, 4734 Okemos Road, Okemos MI, 48864, on June 10, 2022 at 11:00am. In lieu of flowers, please consider making a donation to the Okemos Community Food Pantry at the Okemos Community Church, 4734 Okemos Road, Okemos, MI 48864. Fond memories and expressions of sympathy may be shared at www.greastlansing.com for the Randolph family.