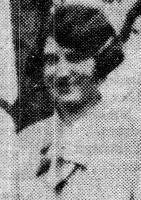 Eva G. Gubbins, daughter of William Elwyn (1861-1938) and Ada (Young) (1877-1965) Gubbins, was born 8 December 1902, Ingham County, Michigan. She attended Okemos School completing 10th grade level. Before the 1923 consolidation, Okemos School only went to the 10th grade. Eva, to complete high school, transferred to East Lansing High School and then furthered her education by graduating with a teaching degree from Western State Normal College, Kalamazoo, Kalamazoo County, Michigan. Eva's two sisters, Gladys and Vera were both graduates of the Okemos High School. Eva also had a 3 year old brother, Donald, who died of influenza in 1921.
After graduating from Western State Normal College (now Western Michigan University) Eva began teaching students in the Ingham County area.
Note: Island School may have been located at College and Jolly Roads. An Island School alumni reunion was held for decades. The school was permanently closed in 1964.

Lansing State Journal (Lansing, Michigan) Wednesday 12 September 1923
OKEMOS
Miss Eva Gubbins began her second year of teaching the Island school last week.
Eva began teaching grade school students at Bath Consolidated School in the 1925-1926 school year. She and her students were within the school structure when it was deliberately dynamited and devastated by Andrew Kehoe, 18 May 1927. Eva was trapped for over an hour in the massive mangled debris with the body of one of her dead students across her legs.
Lansing State Journal (Lansing, Michigan) Friday 20 May 1927
TEACHER, PINNED UNDER DEBRIS WITH DEAD BOY, HAS PRAYERS ANSWERED
Miss Eva Gubbins Spent Hour in Frantic Appeals For Divine Aid
An hour of prayer buried under tons of wreckage with the body of a lifeless boy lying across her own crushed mangled legs - that is the memory Miss Eva Gubbins, a teacher in the Bath school, retains from Wednesday's tragedy.
Her story, perhaps the most graphic of any to be told by a survivor of that reign of terror caused by a madman's rage, was given from a cot in a Lansing hospital Friday.
Miss Gubbins is the daughter of Mr. and Mrs. William Gubbins, living two miles east of Okemos. She is 24, and was cling her second year as a public school teacher at the Bath Consolidated school.
Her story, perhaps the most few minutes in the inferno into which she was pitched from the second floor as the building collapsed was a deafening explosion. The curtain was mercifully drawn on the picture she was to recall with horror the rest of her life for several moments. She regained consciousness and was lying across an iron radiator. An immense concrete beam rested across her numbed legs.
As it had crashed into the trap which held her, this beam had first struck a boy, crushing out his life and pinning his dead body across her legs. Pinned by the mass of wreckage so she could not even turn her head, she declared she could but close her eyes in prayer or open them to gaze into the lifeless eyes staring out of the boyish face pinned a few inches from her own.
MAN TRAPPED ALSO
Through an opening just large enough to admit a human body, a form crawled to her side.
"Eva, I can't get you out - we can pray."
Continuing the story she said; "It was Mr. Flora, one of the men teachers at the school. He had been in the part of the building not devastated by the blast and had jumped 14 feet through an opting in the wreckage and was getting the children loose and pushing them back through to the waiting hands and rescuers.
"It was necessary to wait until the wreckage had been cleared away above before the one broken beam supporting it could be moved. The rescuers then built a huge frame under the supporting column and broke it away piece by piece with sledges until it could be moved and release the second concrete that pinned the little boy and myself in the wreckage."
The band of rescuers was 45 minutes working like fiends, to clear away the wreckage to remove the two. For that length of time, the teachers was conscious, looking up into the face of her less fortunate companion of the disaster.
TEACHER TO RECOVER
Miss Gubbins will recover. Especially helpful in the task of making her well are the dishes a gray-haired mother at a little farm house west of town prepares every minute she cannot be at her daughter's side in the city hospital.
Miss Gubbins is a graduate of Western State Normal college. Last year she taught in the community school east and south of Lansing.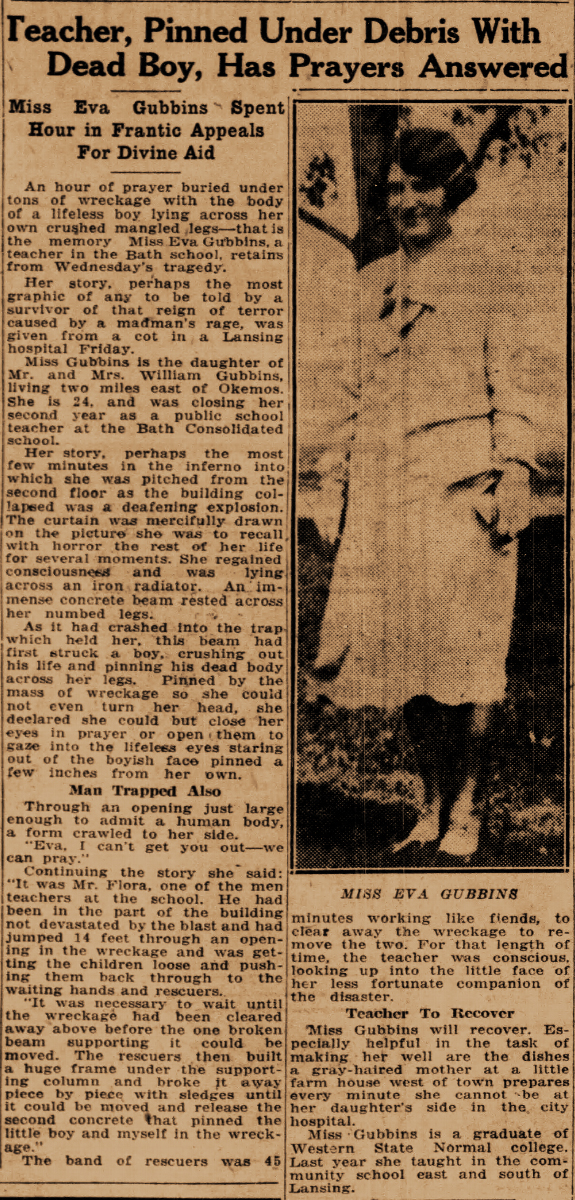 Eva did recover and she was one of the few teachers to return to Bath Consolidated for the 1927-28 school year.
Lansing State Journal (Lansing, Michigan) Tuesday 6 September 1927
Of the teachers who went to school so blithely on that fateful May morning, only Frank Flory, instructor in manual training, and Miss Eva Gubbins, grade school teacher, are still in Bath. Emory E. Huyck, superintendent, was killed in the second explosion; Miss Hazel Weatherbee died in the ruins with a child in each arm; and Mrs. Maude Harte succumbed to her injuries in a Lansing hospital. Miss Nina Matson is still suffering from injuries and Floyd Huggett, principal, has returned to Western State Normal Teacher's college.
Eva fell in love and married Earl O. Hoyt 6 April 1929, Holt, Ingham County, Michigan. The 1930 US Federal census enumerated the newlyweds living with Earl's widowed mother Alice in Saginaw, Saginaw County, Michigan. Earl's occupation was listed as carpenter. By 1940 the US Census located the Hoyt's, still in Saginaw, with 2 children. Eva was a housewife. Unfortunately in 1933 the couple had lost their first born child, Robert Edward, to influenza.
Earl, born 25 August 1904, died 17 May 1971, Tawas City, Iosco County, Michigan. Eva died 20 April 1993, Saginaw. They were interred together Glendale Cemetery, Okemos.
The entire story of the 1927 Bath School explosion is re-told and re-examined by Sherrie Paty '66 (click to read).