Atkins Sisters Visit High School Again in 2018
It's easy to remember Elizabeth and Catherine Atkins...they have revisited Okemos High School in 2017 and 2018. Pictures and stories about the events are attached via link, click the following: The Atkins sisters visit Mrs. Garmons Creative Writing class November 2017; the Atkins sisters bring their mom to school May 2018
Superintendent of Schools, Alena Zachery-Ross, introduced Judge Atkins and her daughters at the Okemos Kiva, May 10, 2018. Her introduction:
INTRODUCTION
Judge Marylin E. Atkins
Elizabeth Ann Atkins
Catherine M. Greenspan
These three dynamic women are a unique literary trio — a mother and her two daughters — who are joining us today to share their stories about life in an interracial family… that includes the seven years they lived in Okemos, from 1980 until 1987.
Elizabeth graduated from OHS in 1985, and Catherine graduated in 1986.
They, along with their mother, Judge Marylin E. Aktins, have written books that were published by Two Sisters Writing & Publishing, which was co-founded in 2016 by Catherine and Elizabeth.
They are in town today for a booksigning at Schulers Bookstore in Meridian Mall tonight at 7 p.m. We hope you can attend. Here's more about them: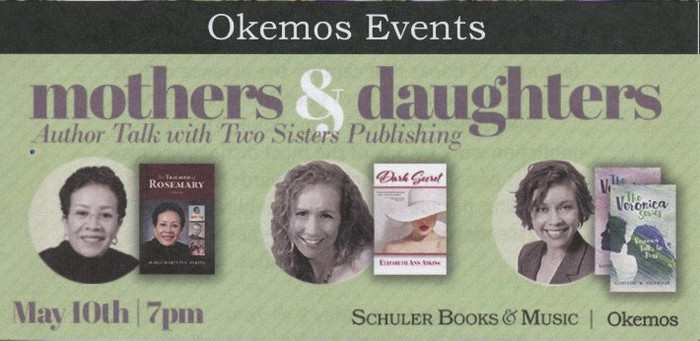 Judge Marylin E. Atkins was the longest-serving Chief Judge in the history of Detroit's 36th District Court, after being appointed by the Michigan Supreme Court six times. She retired in 2012. Judge Atkins earned a Bachelor of Arts in Psychology from Saginaw Valley State University, where she will deliver the commencement address tomorrow and Saturday. She earned a Juris Doctor from the University of Detroit School of Law.
Judge Atkins enjoys exercising, playing the piano, doing carpentry, relaxing with friends, and baking banana-nut-raisin bread that she delivers to her friends, family, and others. She lives in Detroit. She is the author of The Triumph of Rosemary: A Memoir, published by her daughters' company, Two Sisters Writing & Publishing.
Elizabeth Ann Atkins is a best-selling author, actress, TV host, and award-winning journalist who is CEO and Co-Creator of Atkins & Greenspan Writing and Two Sisters Writing & Publishing.
With a master's degree in Journalism from Columbia University and a bachelor's degree in English Literature from the University of Michigan, Elizabeth has written 20 books, including novels White Chocolate, Dark Secret, and Twilight (with Billy Dee Williams).
She co-hosts a weekly TV show, MI Healthy Mind, which airs every Sunday at 8:30 a.m. on Lansing 's Fox 47. The show tackles difficult topics about mental illness and addiction, and just won its fifth award.
Elizabeth has acting roles in the films, Anything Is Possible and The Andrea Doria: Are The Passengers Saved? Elizabeth has been a guest on many national TV programs, including The Oprah Winfrey Show. She and Catherine will be launching a writing program this summer called PowerJournal.
Catherine M. Greenspan is Co-Creator of Atkins & Greenspan Writing and Two Sisters Writing & Publishing.
She holds a Master of Arts degree in Writing from the University of San Francisco, and a Bachelor of Arts degree in English Literature from the University of Michigan. She recently released the first three novels in The Veronica Series, about a 14-year-old biracial girl who's navigating the tricky terrain of friends, boys, school, and family. They are:
Veronica, I Heard Your Mom's Black;
Veronica Talks to Boys; and
Race Home, Veronica!
Catherine is working on more books that showcase the many issues and dynamics that multiracial kids endure.
She is active with the American Association of University Women, and lives in New Mexico with her dog, who has his own Instagram page.
The Okemos Alumni Association welcomes Elizabeth and Catherine Atkins
to the Alumni Hall of Fame for Academics, Arts, Writing