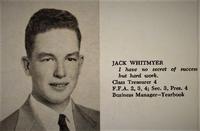 John "Jack" Whitmyer class of 1951
Mr. John Irvin Whitmyer, 89 of Okemos, Michigan died on September 8, 2022 in Sun City, Arizona. He was born June 26, 1933, to John F. Whitmyer and Naomi Whitmyer (Wilkins) in Okemos, Michigan. Jack was the first born of 4 children. He was predeceased by all his siblings, Donald, Nancy and Kenneth.
Jack had 3 sons with ex-wife Beverly (Bell) Whitmyer. He is survived by his sons, John R. Whitmyer (Darla), and Joseph Whitmyer. His grandchildren: Jody Raffler (Richard), Jamie Whitmyer-DeYoung (Ben), Jessica Crawford (John) as well as his great-grandchildren: Naomi Pumford, Lydia Pumford, Logan Raffler, and Anna Crawford.
He was preceded in death by his son, Jeffery D. Whitmyer, as well as his siblings, and loving parents.
John was a member of the Okemos Community Church, Okemos High School class of 1951, an MSU Bachelor's Degree graduate, and he held two master's Degrees from Western Michigan. He proudly served in the United States Army from 1956-1957 as a SP-3 (T).
Jack had a storied history in local politics having been elected Meridian Township Clerk in 1966 and then Ingham County Clerk in 1976. His life and career was highlighted in the historical chronicle "A Tree Grows in Okemos" by Sherrie Paty Barber, which follows his family roots directly to the founding pioneers of Okemos, Michigan.
In lieu of flowers, those desiring to make memorial donations may consider the Okemos Community Church, Okemos Lodge 252, FAM, or a charity of their choosing.
A memorial service will be held at the Okemos Community Church on Friday, September 30, 2022, at 11:00 a.m. with a luncheon to follow.