John O. Grettenberger Sr.

It is with deep sadness that Bo the Cat announces the passing of his dear human, John O. Grettenberger, Sr., former Vice President of General Motors and General Manager of Cadillac Motor Car Division, on March 17, 2020. Bo and the rest of the family kept constant vigil at John's bedside as he ended his battle with cancer. John was 82 years of age.

Family was the center of John's life. Surviving are his extraordinary wife of 61 years, Jane Grettenberger; his children Krista Grettenberger, John Grettenberger Jr. (Sandy), and Ann Orr Weil (Tony); his beloved grandchildren Troy, Anna, Zachary, Thomas, Sloane, Paige (Colin), Kelsey (Russell) and Jillian (Brandon); and his cherished great-grandson Archer. John is also survived by his sister and brother-in-law Ann and Darwin Shaver, nieces Beth (Carl) and Laura (Chris), nephew Patrick (Adrianne), honorary daughters Dunja and Rebecca (Justin), honorary grandson Timo, and many cousins and grandnieces.

John was born in 1937 to Orin and Laura Grettenberger in Okemos, MI. After graduating from the University of Michigan and his ROTC training, he served as an officer in the Navy from 1959 until 1962. John began his career at General Motors as a clerk in Oldsmobile's Los Angeles sales office, after which he advanced through a variety of sales positions.

In 1972, John was awarded an Alfred P. Sloan Fellowship at the Massachusetts Institute of Technology. After earning a Masters Degree in management, he moved on to a series of higher-level GM positions in several cities across America. He also served as GM's special marketing consultant to Isuzu in Japan in 1978 and joined GM subsidiary Adam Opel AG in Germany as Sales Director and member of Opel's Board of Directors.

In 1984, John returned to Detroit and was named a General Motors Vice President and General Manager of Cadillac Motor Car Division. He served in that capacity until his retirement in 1997. During his Cadillac tenure, the division was awarded the nation's highest quality award, the Malcolm Baldrige National Quality Award, presented to John by President George H.W. Bush. In 1991, the Automotive Hall of Fame, citing John's leadership in rededicating Cadillac to customer satisfaction and utilizing a leadership style that cherishes each Cadillac employee, named him as its "Industry Leader of the Year". During his tenure at Cadillac, he enjoyed personally delivering Presidential limousines to presidents Reagan, Bush (H.W.) and Clinton.

Following his 1997 retirement, John returned to Lansing to join his son, John Jr., in a family business, LorAnn Oils Inc., founded by his father, Orin K. Grettenberger, a long time Okemos businessman. John served on numerous Boards of Directors, including Spartan Oil Corporation, Trans-Teq Corporation, Sparrow Development Incorporated, and the Chief Okemos Council Boy Scouts of America.

John's work on behalf of Sparrow Hospital included seven years of service on the Quality and Patient Safety Committee, four years as Sparrow Development Inc.'s Board Chair, and membership on the Blue Ribbon Panel, the hospital's taskforce on governance restructuring.

In 2014, John provided leadership as a member of Sparrow Foundation's Cancer Center Campaign Cabinet, which raised more than $8.6 million for the creation of the new Cancer Center. John has been a philanthropic supporter since 1996; John and Jane are members of the Sparrow Foundation Philanthropist's League at the Ambassador Level.

In 2019, in recognition of John's many years of service to the Sparrow community, he was given its highest honor, the Sparrow Founder's Award.

John's service extended far into the greater Lansing community. He was a significant member of Mayor Hollister's Blue Ribbon Committee to Keep GM, an effort that resulted in GM's decision to stay in Lansing and build two new plants. John was a founding member and key financial contributor to both the Forster Woods Adult Day Center in Williamston and the Friends of Historic Meridian Township, which is dedicated to preserving and maintaining the historic structures in the Meridian Historical Village. In the Village, he spearheaded the efforts to build a replica of an Okemos chapel originally built in 1870. John has also been an active and contributing member of the Lansing Rotary and has supported many other charitable organizations in the Lansing area.

Perhaps John's most important legacy is his close-knit family, who actually like to vacation together. John and Jane rebuilt and maintained his parent's cottage at Houghton Lake, and family frequently gather there to play games and overeat. John and Jane have also taken the 15 members of our immediate family on adventures all over the world, from Hawaii to Mexico to Europe. We are forever grateful to our father, grandfather and great grandfather for instilling the importance of family in each and every one of us.

The family would like to give special thanks to Doctors Michael Zaroukian and Michael Clark for their continuous support through John's nine lives. Also special thanks to Sparrow Hospice and to Home Instead caregivers Anna Lambert, Tonya Arbour, Jackie Hebden, and Rakael Tyler.

John chose an interesting time to leave this Earth and in light of current circumstances, we will not be holding visitations nor a funeral. Instead, when life is a bit calmer, we will hold a Celebration of Life memorial service, its time, date and location TBD. In lieu of flowers, please consider donations to Friends of Historic Meridian, Forster Woods Adult Day Center, St. Katherine's Episcopal Church (Williamston, MI), Sparrow Hospital Foundation, Lansing Rotary Foundation or the Greater Lansing Food Bank.

Published in Detroit Free Press & The Detroit News and the Lansing State Journal from Mar. 19 to Mar. 22, 2020.
This Okemos Alumni Association website includes an interview between John Grettenberger, Sr. and Lorry Everhardus regarding the history of Okemos. On the Home page > Okemos History > Okemos Area > An interview with John Grettenberger about his family in Okemos.
*NOTE: 19 March 2020 - John died during the growing COVID-19 worldwide pandemic, causing our country to impose 'social distancing'. This has restricted the gathering of our nation's citizens, including family ceremonies such as weddings and funerals.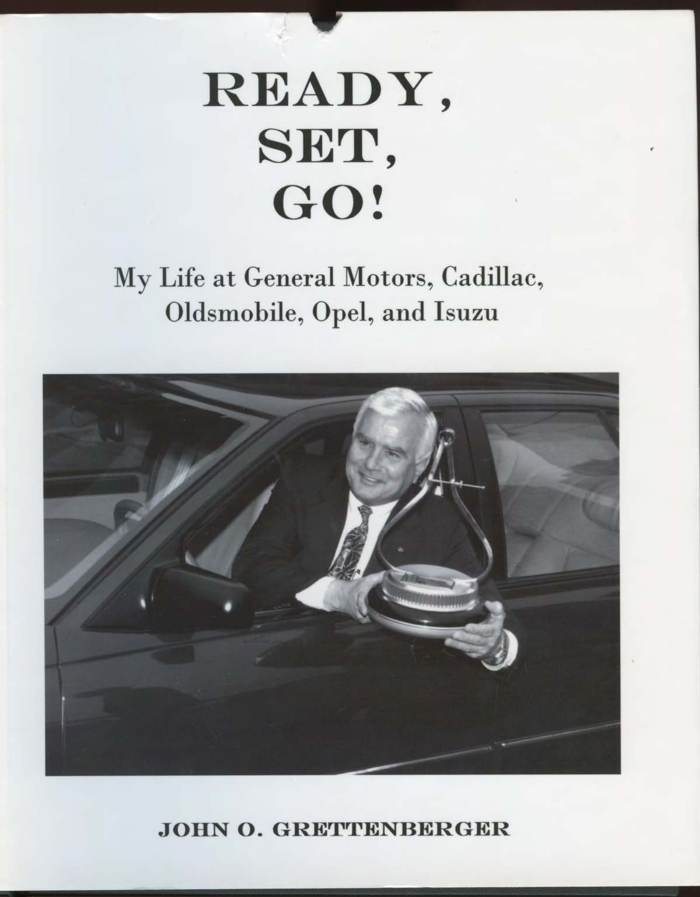 The Autobiography of an Okemos legend
<click the book to read>
https://www.legacy.com/obituaries/name/john-grettenberger-obituary?pid=195721071